A BRIEF HISTORY OF EMPOWERMENT INSTITUTE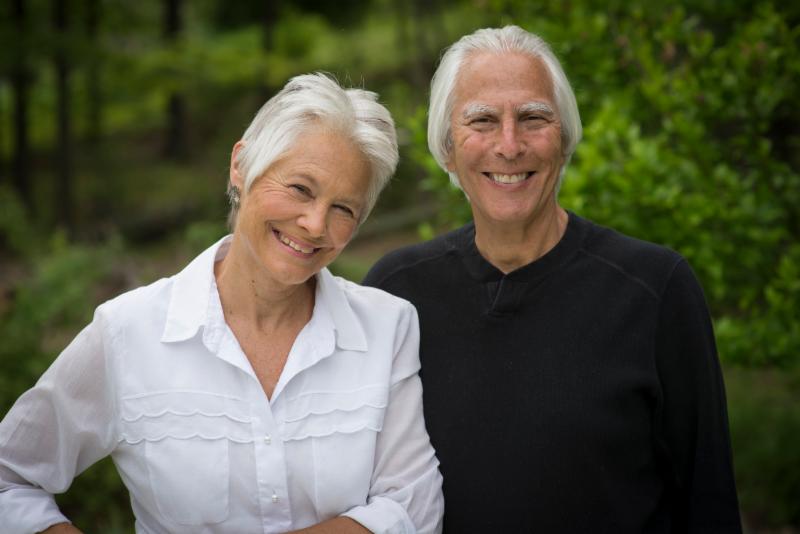 In 1981 David Gershon and Gail Straub founded Empowerment Institute to explore the question: how do you empower people to grow and realize their full potential? They wanted to shift the focus from fixing problems and healing the past, to focusing on what we want for our lives, our organizations, our communities, and our world – and how to achieve it. Enabling people to envision and realize their dreams was the approach they called "empowerment." The term "empowerment" was new in the vernacular of transformation, as was their approach. This transformative social innovation soon began attracting attention.
People came to learn about empowerment for themselves, their organizations, their communities, and their causes. They came from all over North America, Europe and Latin America, but also from Afghanistan, Darfur, Rwanda, South Africa, China, Russia, and India.
They included social entrepreneurs, community organizers and environmentalists; Fortune 500 corporate leaders, organizational change consultants and business school professors; life coaches, health-care professionals, therapists, educators, and personal development trainers; non-profit managers, government executives and politicians; young and old, male and female, and embodying every race and ethnicity.
Over the years what evolved was an extraordinary learning community – a global empowerment laboratory to help refine their methodology and explore its breadth of application in society. David and Gail wrote their best selling book, Empowerment: The Art of Creating Your Life As You Want It to help popularize their research. The writing process brought further refinement to their model and the book's success attracted yet more people to their trainings. Along the way, Gail and David became master practitioners of empowerment.
David and Gail continued to evolve their empowerment work by adapting the model and methodology to other initiatives. Included amongst these was a global transformative event created at the height of the Cold War, the First Earth Run. In partnership with the United Nation's Children's Fund (UNICEF) and ABC Television, they organized the historic passing of a torch of peace around the world. This simple and profound act of global unity offered at a moment of great fear in our world was able to engage the participation of 25 million people in 62 countries, the world's political leadership and, through the media, an estimated 20% of the population on the planet. It was an extraordinary confirmation of the efficacy of the empowerment methodology.
Building on this growing body of knowledge and experience, David began applying his empowerment expertise to large organizations and cities. The versatility of the empowerment methodology enabled it to achieve behavior change, talent development and cultural transformation in organizations and sustainable lifestyles, livable neighborhoods and disaster-resilient communities in cities. Based on this behavior change research, David has written eleven books including his award-winning Social Change 2.0: A Blueprint for Reinventing Our World, and best-selling Low Carbon Diet: A 30 Day Program to Lose 5,000 pounds.
Gail applied her behavior change acumen to issues of women's empowerment through a global initiative for the empowerment of women called IMAGINE. This initiative trains empowerment facilitators to deliver the Empowerment Workshop to disenfranchised women in developing world countries. IMAGINE is being implemented in Afghanistan, Brazil, India, Jordan, Kenya, Nigeria South Africa, and Sudan. Another of Gail's contributions to women's empowerment is her award-winning memoir, Returning to My Mother's House: Taking Back the Wisdom of the Feminine. She has also written the critically acclaimed The Rhythm of Compassion: Caring for Self, Connecting With Society.
And the results from this research and application … a robust and rigorously tested transformational model that has stood the test of time. If you choose to participate in one of Empowerment Institute's training programs know that you are also participating in a global empowerment movement – a movement that aspires to nothing less than changing the world … one person and one dream at a time.
Corporate and Non-Profit Clients
Dozens of corporations and non-profits have been trained or formed strategic partnerships to implement Empowerment Institute's methodology. Some of the larger or more well know clients include:
American Express
Coca-Cola
Dove
Deloitte
Josie Maran Cosmetics
Nike
Omega Institute
Sterling Publishing
Unilever
University of Pennsylvania
Whole Foods Markets
Women for Women International
PUBLIC SECTOR AND UTILITY CLIENTS
Arlington County, VA
Bend City Water Department, OR
Chattanooga-Hamilton County Air Pollution Control Agency, TN
Chattanooga Area Regional Transit Authority, TN
City of Chattanooga Department of Public Works, TN
City of Columbus Health Department, OH
City of Harrisburg, PA
City of Irvine, CA
City of Issaquah Resource Conservation Office, WA
City of Kansas City Department of Environmental Management, MO
City of Los Angeles,CA
City of Madison Recycling Office, WI
City of Mountain View, CA
City of Minneapolis, MN
City of Mountain View, CA
City of Petaluma, CA
City of Palo Alto, CA
City of Portland Bureau of Environmental Services, OR
City of Portland Department of Transportation, OR
City of Portland Water Bureau, OR
City of Portland Energy Office, OR
City of Portland Office of Sustainable Development, OR
City of San Francisco, CA
White House Office of Sustainable Development
Empowerment Institute's non-profit research arm, Global Action Plan, has received the following foundation support for its research and development initiatives around behavior change, community empowerment and sustainable development.
Bullitt Foundation
Joyce Mertz Gilmore Foundation
Kettering Foundation
MacArthur Foundation
Merck Family Fund
Pew Charitable Trusts
Rockefeller Family Services
Sloan Foundation
Surdna Foundation
A Better World Fund
Adobe Systems
Ciba-Geigy Foundation
Compton Foundation
Cray Foundation