This certification program is currently unavailable.
TRACK TWO 

EMPOWERMENT WORKSHOP TRAINER
A Training Program and Methodology for Changing Behavior and Deep Transformation
Created by David Gershon and Gail Straub in 1981, the Empowerment Workshop's purpose is to empower individuals to envision and create the life they most want. Tens of thousands of people from around the world have participated in this workshop over the past four decades, and it has been acclaimed as one of the most powerful personal development training programs available. It is Empowerment Institute's flagship training program and the foundation of all the empowerment competencies taught in the Institute. You will be certfied to lead this training program and be provided a marketing strategy and tools to enroll participants.
Individuals wishing a proven and turnkey personal development training program.
Individuals wishing to integrate the Empowerment Workshop into existing curriculum including leadership development and professional training programs.
Individuals wishing to integrate the core competency of empowerment into an organizational development practice, community-based behavior change initiative, or transformative social change strategy.
Social workers or social service agencies working with disenfranchised populations such as the homeless, unwed mothers, and domestic abuse victims.
Social architects wishing to become a practitioner of the Social Change 2.0 methodology and establish competency in its core strategy of empowerment.
Individuals, NGO's, national and international government agencies, and aid organizations wishing to empower disenfranchised women in the developing world. To learn more about Empowerment Institute's IMAGINE initiative click here.

For over four decades, the Empowerment Workshop has been offered to support people in creating their life as they most want it. It is based on the world-renowned empowerment work of Gail Straub and David Gershon.
The workshop premise is that our beliefs create the conditions of our life. If we wish to change our life, we need to envision the new possibility and transform the limiting beliefs that are creating the current situation. The workshop applies this transformational methodology to the seven content areas of life: emotions, relationships, sexuality, body, money, work, and spirituality.
As a foundation for this transformation work, the workshop helps individuals create a healthy core belief system, use the tools of intention, affirmation and visualization to help manifest their dreams, and cultivate the personal power to sustain their growth over time. Workshop participants apply these tools to create dynamic visions in each area of their lives.
Over the past four decades, the Empowerment Workshop has helped tens of thousands of people worldwide to create lives filled with hope, possibility, passion, meaning, and contribution.
CONVERSATIONS WITH VISIONARY COLLEAGUES ABOUT THE EMPOWERMENT MODEL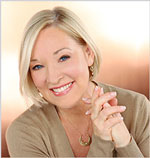 Christiane Northrup, M.D., is a visionary pioneer and the world's leading authority in the field of women's health and wellness. Dr. Northrup is a leading proponent of medicine that acknowledges the unity of mind, body, emotions, and spirit. Internationally known for her empowering approach to women's health and wellness, Dr. Northrup is the author of many books including the best selling Women's Bodies and Women's Wisdom.
Gail: How has the Empowerment Workshop assisted you in your own life?
Chris: "It gave me a foundation of self-trust that I needed to co-create my business Women to Women. I have no idea how I would have believed I could do this without the reinforcement of the empowerment model. I actually don't know how people go through their lives without knowing these principles of how the universe works. Otherwise you are a boat without a rudder."
Societal Change Applications of Track Two
A Vehicle for Collective Transformation
Applying Track 2 to Empower Women in the Developing World
SCHOOL FOR TRANSFORMATIVE SOCIAL CHANGE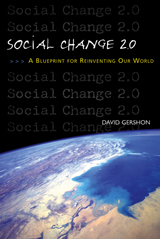 Read about the Empowerment Institute Certification Program in a free download from David Gershon's award-winning book Social Change 2.0: A Blueprint for Reinventing Our World, "Building Leadership Capacity to Change the World: A School for Transformative Social Change."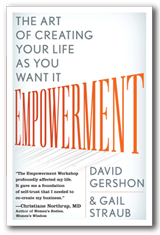 Listen to excerpts from David Gershon and Gail Straub's best-selling book Empowerment: The Art of Creating Your Life As You Want It, read by the authors: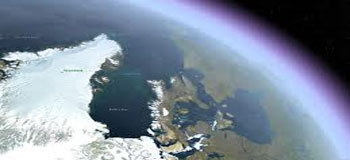 "I just love the Empowerment Life Coaching Program. The way you have designed it enables real transformation. I am amazed by the immediate results it achieves in people's lives. I am building my clientele fast. I got thirteen new clients and earned back my investment three times over within several months. Of course, it is through my own enthusiasm and belief in the excellence of this program that I created these results."
— Isis Saris, Life Coach