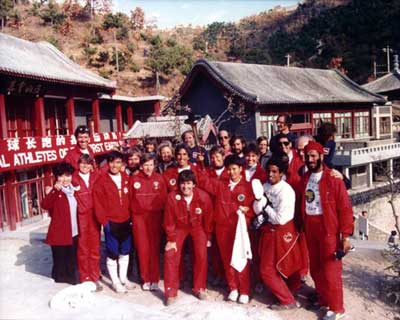 One by one we began assembling the team. I honed my recruitment pitch to: "Long hours, no pay and no guarantee of success, but a vision that just might change the world!" It was right out the classic Japanese movie Seven Samurai where a small group of warriors were recruited to save a city under siege by an invading army. Each samurai was accomplished and masterful in his specialty. Each was willing to step out of his life and courageously dedicate himself to a very difficult and highly challenging assignment. It was moving to watch this heroic impulse come alive within people.
Soon we had graduated to convincing organizations to arrange for the passage of the torch through their country. One such organization was the Jaycees, an international organization of young leaders. I was invited to their annual international meeting in Cartegena, Colombia to present my idea. I made my speech to the entire group hoping for a great reception, but there was no immediate response. I wondered how in the world I was going to find representatives from the countries that I needed. My opportunity came a day later during the Jaycees' traditional parade through the city. Jaycees were lined up behind their national flag and a placard with their country's name on it. I realized this could be a bonanza! I darted from placard to placard giving my pitch and setting up meetings for the next few days. In three hours I had 8 countries identified, most of which proved fruitful.
On one trip Gail went to meet with a number of possible organizers in India, Bangladesh, Singapore, Malaysia and Indonesia. She gave herself 10 days to get 5 organizers. She came back 10 days later with many stories, dysentery and five organizers. The vision was becoming a reality: One country at a time, the world was demonstrating a desire to receive the flame.
Gail, serving as our International Director, created a 75-page "how to" manual which was distributed to each country's organizing committee. This was to be their primary organizing tool. The only long distance communications available were cables and phone, both of which were cost prohibitive. The manual explained how to organize the torch relay, finance it in their country, publicize it, create public ceremonies and select each community's three most successful self-help projects.
Called "What's Working in the World", these self-help projects were to be a celebration of the best of humanity's ingenuity, and replicate at the community level what was being created at a global level: People using their imagination in the spirit of cooperation to find solutions to important problems. It was also to be a collection of the best community self help strategies and practices from around the world. At each community ceremony, the torch would "shed light" on what was working in the world.
The relay team was a group of runners who served as keepers of the fire and escorts for the torch runners in each country. Our strategy was to divide the world into 16 major geographic regions. The dream, like a beautiful bird song, attracted runners from each of these regions who were willing to add their unique spirit to this epic. They came from Argentina, Australia, Brazil, Canada, China, Costa Rica, Hungary, India, Japan, Kenya, Malaysia, New Zealand, Nigeria, Russia, United Kingdom and United States. They were women and men, Hindus, Moslems, Jews and Christians, recreational runners and Olympians. The world's rich cultural and religious diversity was being assembled and would be placed together for 86 days.
The core responsibility of the relay team was to serve as emissaries – welcoming and accompanying each of the thousands of runners from around the world who would carry the torch. They were also charged with assuring the original fire stored in draft-proof miner's lamps always remained lit. They would face many challenges from helping runners safely navigate through the massive uncontrolled crowds, to convincing airlines that it was safe to fly with a live flame, to living with others who were so different from themselves.
FIRST EARTH RUN ON GOOD MORNING AMERICA
FIRST EARTH RUN: UN OPENING CEREMONY REMARKS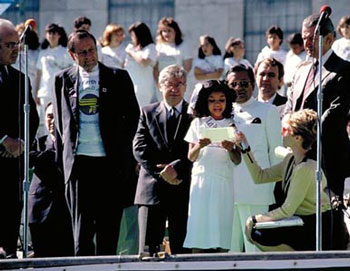 Remarks from US President Ronald Reagan
Remarks by UN Secretary-General H.E. Javier Perez de Cueller
Remarks by James P. Grant, Executive Director of UNICEF
UNITED STATES CONGRESSIONAL RESOLUTION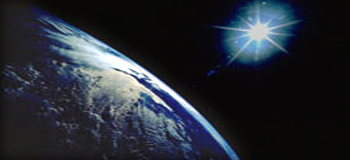 United States Congress Resolution H. Res. 160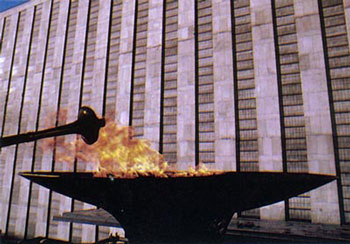 This music was inspired by the First Earth Run. It contains musical offerings by a number of artists who call upon us to envision a planet of peace, cooperation, global unity and our responsibility to create it.
1. Earth Run Anthem: Amanda George, James Papoulis – 2:20
2. Earth Run Anthem (instrumental): James Papoulis – 2:19
3. Run for the Life of the World: Julie Stafford, Dave Nolan – 3:50
4. Carry the Flame: Randy Bishop, Lisa C. Cohen – 4:04
5. Give the World a Chance: M. Tewksbury, P. Spiller – 4:38
5. Earth Run: Lee Ritenour – 4:32
7. D'Une Rive A L'Autre: Michel Jonasz – 4:04
8. Celebrate Life Around the World: Joyce, Ray – 1:39
9. Run for My Life: Cavarier – 4:09
10. We Love You First Earth Run: Franko – 5:07
11. Pass Me the Torch of Peace: Omar Ken – 5:13
FIRST EARTH RUN POSTER COMPETITION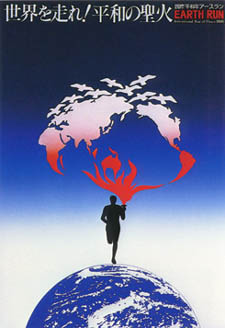 As part for the First earth Run, there was a national competition in Japan to create posters celebrating this epic event to further peace in the world. It inspired a great outpouring of creativity and vision. What follows are the wining posters and the runners-up.