FIRST EARTH RUN ON GOOD MORNING AMERICA
FIRST EARTH RUN: UN OPENING CEREMONY REMARKS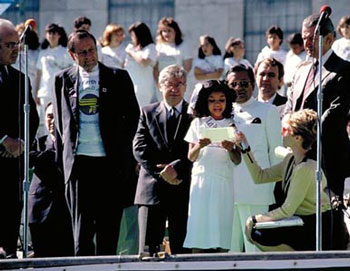 Remarks from US President Ronald Reagan
Remarks by UN Secretary-General H.E. Javier Perez de Cueller
Remarks by James P. Grant, Executive Director of UNICEF
UNITED STATES CONGRESSIONAL RESOLUTION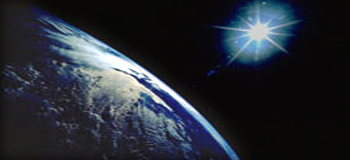 United States Congress Resolution H. Res. 160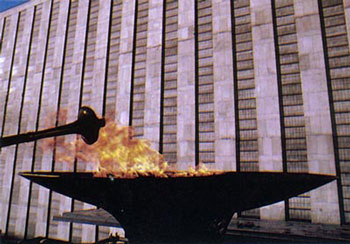 This music was inspired by the First Earth Run. It contains musical offerings by a number of artists who call upon us to envision a planet of peace, cooperation, global unity and our responsibility to create it.
1. Earth Run Anthem: Amanda George, James Papoulis – 2:20
2. Earth Run Anthem (instrumental): James Papoulis – 2:19
3. Run for the Life of the World: Julie Stafford, Dave Nolan – 3:50
4. Carry the Flame: Randy Bishop, Lisa C. Cohen – 4:04
5. Give the World a Chance: M. Tewksbury, P. Spiller – 4:38
5. Earth Run: Lee Ritenour – 4:32
7. D'Une Rive A L'Autre: Michel Jonasz – 4:04
8. Celebrate Life Around the World: Joyce, Ray – 1:39
9. Run for My Life: Cavarier – 4:09
10. We Love You First Earth Run: Franko – 5:07
11. Pass Me the Torch of Peace: Omar Ken – 5:13
FIRST EARTH RUN POSTER COMPETITION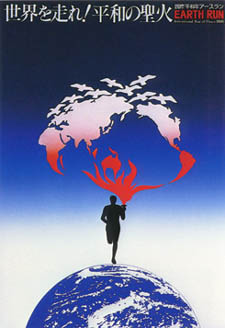 As part for the First earth Run, there was a national competition in Japan to create posters celebrating this epic event to further peace in the world. It inspired a great outpouring of creativity and vision. What follows are the wining posters and the runners-up.