This certification program is currently unavailable.
PRACTICE OF EMPOWERMENT TESTIMONIALS

"David and Gail present a complete cosmology for how to be an inspiring, effective facilitator of empowerment. One walks away with an excellent map and kit full of tools for doing their work."
—Meryl Bringer, manager
---
"Our school district team of five came to this training with approximately 100 years of experience in our school; we left with the energy of new teachers. We believe we can use this transformational process to create an environment that maximizes learning for students and staff. It feels very exciting."
—Jane Ebaugh, education administrator
---
"David and Gail are gifted teachers! Their willingness to give away their creation, the empowerment model of growth, was moving. The generosity, authenticity and vulnerability of their beings pervaded their work."
—Margo Simmons, organizational trainer
---
"It is so empowering I'm ready to lift off and blossom. The generosity and selfless nature of the work is astounding."
—Chris Northrup, medical doctor
---
"Lucid, totally professional, packed with clear relevant information. My cup runneth over."
—Cathy Shore, teacher
---
"The Practice of Empowerment has fulfilled all my expectations, created new ones and fulfilled them too."
—Robert Yeager, organizational consultant
BECOME CERTIFIED AS AN EMPOWERMENT FACILITATOR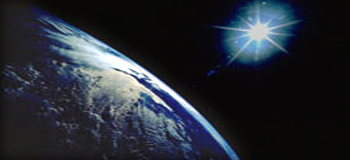 Empowerment Institute Certification Program led by David Gershon and Gail Straub builds deep competence in the practice of empowerment methodology and facilitation skills and supports you in applying it to a specific transformational change project. To learn more click here.
EMPOWERING ORGANIZATION CULTURE CHANGE FRAMEWORK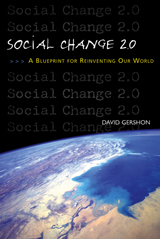 Read about the Empowerment Institute Certification Program in a free download from David Gershon's award-winning book Social Change 2.0: A Blueprint for Reinventing Our World, "Building Leadership Capacity to Change the World: A School for Transformative Social Change."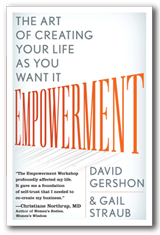 Listen to excerpts from David Gershon and Gail Straub's best-selling book Empowerment: The Art of Creating Your Life As You Want It, read by the authors:
PRACTICE OF EMPOWERMENT TESTIMONIALS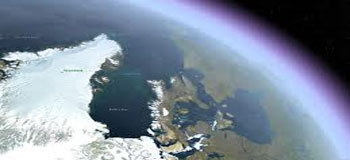 "David and Gail present a complete cosmology for how to be an inspiring, effective facilitator of empowerment. One walks away with an excellent map and kit full of tools for doing their work."
— Meryl Bringer, manager