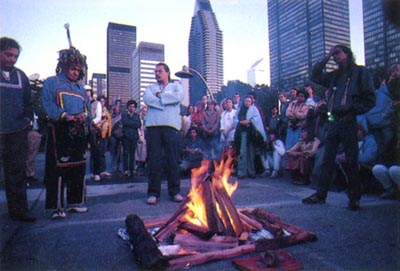 The time was 1983, the year the TV movie "The Day After" was broadcast nationwide to one of the largest TV audiences in America. In this movie, America was destroyed by a nuclear attack launched by the Soviet Union. The movie created shock amongst Americans as they watched tens of millions of people killed in their country. It was as if the country had a collective near-death experience.
It was a time when the two most powerful nations on Earth aimed their deadliest weapons at each other in a doomsday scenario of mutually assured destruction. Children were in despair of ever having a future and the smartest political strategists of the world could not imagine a way out. The world was enveloped in a profound psychological darkness.
Out of this despair a small, barely perceptible opening occurred in the American psyche. It was into this opening that I entered with a dream: To carry an archetypal torch, person to person, country to country, leader to leader – extending a band of light around the world. Igniting and uniting the people and political leaders of the planet in a shared vision of living together in harmony. Providing a pause in the fear long enough for our collective imagination and ingenuity to find stable footing. Creating an opening in the global psyche for something new to be born.
It was visionary, but the odds against it seemed immense. Who would help organize an almost impossible dream? Who would be willing to finance such a risky and unprecedented undertaking? What organizations could meet the logistical challenges? What political leaders would put their reputation on the line for such a wildly improbable idea? And if it could somehow defy all these odds, would it really make any difference given the monolithic forces at play?
While I clearly had a lot to learn about the world's political complexity, I did have an interesting history. I had organized the Olympic Torch Relay for the 1980 Lake Placid Games and was a seasoned management consultant. I may have been naive, but I couldn't be completely discounted. My first recruit, I hoped, would be a sure thing.
I had met Gail Straub three years earlier right after organizing the Olympic Torch Relay. She had short blonde hair, a radiant smile and a contagious joie de vivre. I had met my soul mate and we instantly fell in love. Within a few months we decided to get married and develop a training program that empowered people to envision and manifest their dreams. By the spring of 1983 when my vision for the world was coming into being, we had been leading our empowerment training program for two years.
I was hopeful my wife would not only support me in going for this vision, but would be willing to add her considerable energy and enthusiasm to helping make it happen. I told her it would certainly be a great adventure. I had had this vision since 1976 when I first tried my hand at large scale organizing by creating the Bicentennial Torch Relay. During this relay, a torch was passed non-stop by 32 runners for 9,000 miles through America's 48 continental states, then runners flew the torch to Alaska and Hawaii. I created it to rekindle the values upon which America was founded which were receding into a post Vietnam War malaise.
I explained to Gail that this self-funded grassroots initiative had captured the imagination of the country, the media and the White House. Most importantly, I discovered that the fire had a mythic power that touched people in a profound way. As the event was winding down at Federal Hall in New York City, the site of George Washington's inaugural, a thought came to me: Pass the fire around the world uniting the world in the spirit of cooperation. Let it serve as a symbolic way to recognize our common aspiration to live in harmony with one another. I felt this idea was so important, I was willing to dedicate my life to making it happen.
I told her I had tried to convince people and institutions to participate in this endeavor for three years. While I was able to create a core organizing team and had the good will of many, I was buffeted by multiple rejections from funding institutions. Having spent my meager savings, I was running out of options. Suddenly, out of the blue, I was offered an opportunity to organize the 1980 Olympic Torch Relay. I had developed an expertise in a most esoteric craft and essentially had cornered the market. I quickly redirected my team.
It was an experience of a lifetime. The President of the United States, Jimmy Carter, offered us Air Force One to get the flame from Olympia, Greece and bring it back to America. We were given permission by the International Olympic Committee to have a special selection process for the torch bearers. They were to be selected by how well they embodied the ancient Greek ideal of the whole person: An integration of body, mind and spirit. Over 8,000 runners applied for 52 spots representing the 50 states, Washington, DC and Lake Placid. Wherever they carried the torch, they were hailed as Olympians. The runners themselves chose the teammate who best embodied this Olympic spirit to light the stadium cauldron that opened the Olympic Games. And once again, I saw the fire's power to transform and uplift all who gazed upon it.
I told Gail, with my credibility from organizing the Olympic Torch Relay and the pervasive fear of our planet's imminent peril, I hoped people would now be more willing to embrace this vision. I cautioned her that if we went for this dream, we would need to devote the majority of our time to organizing, which might put our young empowerment training business at risk. We would also have to invest the small inheritance I had recently received from my Mother's death as the start up capital. Since no one had ever done anything of this global and logistical magnitude before, it would be very, very hard to do. But if we were successful, I felt it just could provide enough inspiration to nudge the world in the right direction. Was she up for it? If she wasn't, I assured her that I certainly would understand.
Her answer was immediate. She said, "If it could make the kind of difference you describe, I'm willing to go for it." After an emotional embrace, my next question was, "Do you know anyone who lives in a foreign country?" Her response, "I know someone who used to live in England, perhaps she could help us find people." So began our odyssey to convince the world to participate in this mythic transformative act. What transpired over the next three years demanded more of us then we could have ever imagined.
FIRST EARTH RUN ON GOOD MORNING AMERICA
FIRST EARTH RUN: UN OPENING CEREMONY REMARKS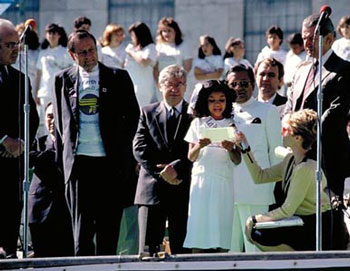 Remarks from US President Ronald Reagan
Remarks by UN Secretary-General H.E. Javier Perez de Cueller
Remarks by James P. Grant, Executive Director of UNICEF
UNITED STATES CONGRESSIONAL RESOLUTION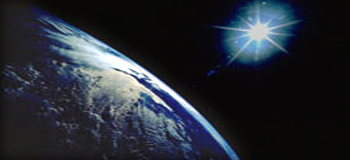 United States Congress Resolution H. Res. 160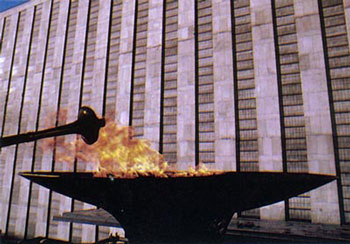 This music was inspired by the First Earth Run. It contains musical offerings by a number of artists who call upon us to envision a planet of peace, cooperation, global unity and our responsibility to create it.
1. Earth Run Anthem: Amanda George, James Papoulis – 2:20
2. Earth Run Anthem (instrumental): James Papoulis – 2:19
3. Run for the Life of the World: Julie Stafford, Dave Nolan – 3:50
4. Carry the Flame: Randy Bishop, Lisa C. Cohen – 4:04
5. Give the World a Chance: M. Tewksbury, P. Spiller – 4:38
5. Earth Run: Lee Ritenour – 4:32
7. D'Une Rive A L'Autre: Michel Jonasz – 4:04
8. Celebrate Life Around the World: Joyce, Ray – 1:39
9. Run for My Life: Cavarier – 4:09
10. We Love You First Earth Run: Franko – 5:07
11. Pass Me the Torch of Peace: Omar Ken – 5:13
FIRST EARTH RUN POSTER COMPETITION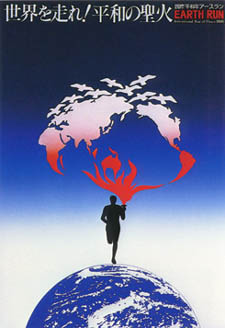 As part for the First earth Run, there was a national competition in Japan to create posters celebrating this epic event to further peace in the world. It inspired a great outpouring of creativity and vision. What follows are the wining posters and the runners-up.